Foreword
This biography was written between 2011 and 2022, long after most events took place and memory can be an unreliable guide. Contents are based on my appreciation, others may remember matters differently.
When I was born, the family lived in extraordinary luxury off trusts inherited in 1931 upon the death of my great-grandmother Anna Woerishoffer (born Uhl) and I remember being surrounded by butlers, chambermaids, game keepers and the like.
The Woerishoffer trusts provided Paps with a substantial annual income, maybe €2-3 million in today's terms, which was spent entirely on the leisures of a gentleman - race horses in England and Austria, safaris in Africa and India, exotic travel and much more.
However it was Wasserburg that cost the most.
From 1925 until the Anschluss in 1938 and later, after the Staatsvertrag (1955), Wasserburg and it's Downtown Abbey lifestyle, must have cost €80-100'000 a month in today's terms.
Things got tight when the dollar started to loose it's value in the 1970's (In Retrospect).
Before the Second World War Paps had two properties - Wasserburg and Albrechtsfeld, a farm in the Burgenland. He made it known that he had 2 estates, one for each son however it so turned out that neither property was passed on to either of his sons.
There were two further properties (Haus Seilern in Kitzbühel, 1947 – 1958(?) and an appartment building in Lausanne, 1957- ), both paid for by the US Trust Company out of the Woerishoffer trusts.
The relationship with my father was always strained. He led the life of a wealthy gentleman, and I was trying to make my mark. He was 35 years older than me.
My early years were molded by what I saw and my belief that this was the way one lived. I remember thinking as a teenager what a wonderful family we had and how lucky I was.
Disappointment sunk in over time. The parents and sisters lived a traditional Austrian lifestyle - it was 'Herr Graf', 'Frau Gräfin', and being addressed per-Sie (even at times in "the third Person" – haben Herr Graf noch einen Wunsch), and no proper education, let alone attending a university or holding a job.
In those days women were not encouraged to have careers. Regrettably both Nettie and Henriette never held a job. I remember talking to Mami about this a long time ago and she replied "if the girls had a job it would be taking work away from somebody else". That was the generally accepted practice for persons of wealth in those days.
Members of my generation and even some of my nephews and nieces have not kept up with the times. This has taken a toll and set the stage for the Seilerns to once again return to more humble settings.
When Uncle Antoine died in 1978, I inherited (because nobody else was interested) a trunk full of letters, documents, certificates, bank statements, etc. that he most probably had inherited from his grandmother, Anna Woerishoffer.
It contained more than 2'000 documents and in 2001 I decided to archive them. It turned out to be a trove of information filling 35 folders, leaving a trail of family history starting in the mid-19th century.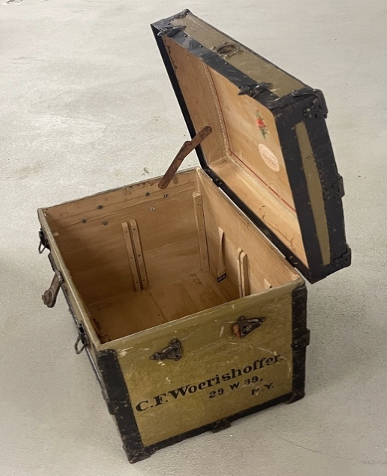 I also found a book entitled "Carola Woerishoffer, Her Life and Work" published by the Class of 1907 of Bryn Mawr College in 1912. Hers was an extraordinary and all-too-short a life.
Although the Seilern name is referred to abundantly, we are most indebted to those who do not bear our name. They are Anna Behr, Jakob Uhl (Anna's first husband), Oswald Ottendorfer (Anna's second husband) and especially my great-grandfather Charles F. Woerishoffer.
All the parents ever mentioned was that my great-grandparents owned the New Yorker Staats-Zeitung and that is where the good fortune came from. Nothing else and not factually correct.
Paps never mentioned his grandfather Charles Frederick Woerishoffer, even though he was one of the most prominent figures ever on Wall Street and whose estate largely surpassed the value of the Staats-Zeitung. I came across this by digging up articles in the New York Times published shortly after his death and getting hold of "Fifty Years in Wall Street" by Henry Clews.
Paps knew his grandmother well (he was 32 at the time she died) and it is strange that she never talked about her husband. Or did she? Only much later, when going through the archived papers did I learn a different story.
Anna Uhl and her husband founded the NY Staaatszeitung which was left to their son Edward Uhl when she died in 1884 (p.14). Anna Woerishoffer (her youngest daughter) inherited only personal belongings at the death of her mother.
And for good reason - she was married to Charles F. Woerishoffer who was much better off than his in-laws.
CFW died in 1886 at the early age of 41 leaving an immense fortune to both her and their two daughters, Antoinette and Emma Carola. Carlo Seilern only came into the picture around 1897, 11 years later.
The devoted efforts of these impoverished and hard-working German immigrants allowed the Seilerns to once again see a brighter future. What they did with this good fortune is another matter.
There follows a mixture of anecdotes, newspaper articles, photos as well as events I still remember.
PS 36
---
Previous: Table of contents | Next: Genealogy